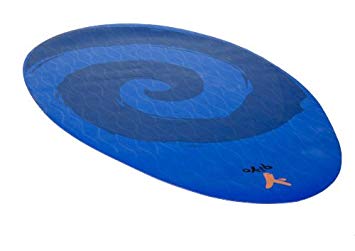 Oval Yoga Mat
The revolutionary oval mat echoed the wholeness, unity, and warmth of the egg. The first prototypes received rave reviews from the NYC yoga community, and a flock of like-minded folks joined hands and hearts in pursuit of the Qi-Yo Oval Mat.
sold out
Every shape is a potential source of vibration, therefore the mat is embedded with the texture of blue waves, augmented with a spiral graphic print on the blue, and a Flower of Life pattern on the purple side.
Oval means life, the womb, the Mother.
Blue waves are reminiscent of purity and fertility, the primordial whirlpool.
The spiral hints at the curves of conscious evolution as we navigate change.
The Flower of Life carries the blueprint of creation, houses the tree of life, celebrates unity in diversity.
Purple invokes imagination and spirituality.
Blue generates a scent of celestial love and truth.
Egg – the hatching, the inception, the multitude of I's… floating on the primordial waters of Mother Earth.